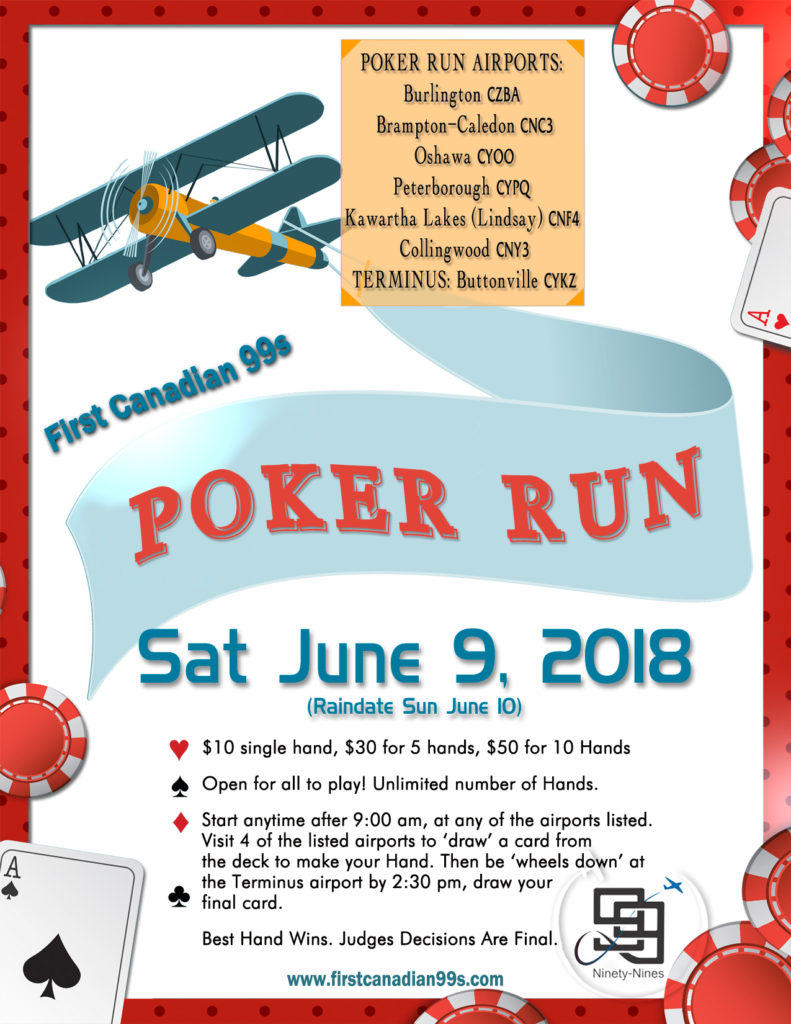 POKER RUN – PARTICIPATING AIRPORTS:
Burlington CZBA
Brampton-Caledon CNC3
Collingwood CNY3
Oshawa CYOO
Peterborough CYPQ
Kawartha Lakes (Lindsay) CNF4
BUTTONVILLE CYKZ / TERMINUS
HOW DO YOU PLAY A POKER RUN?
Start any time after 9:00 a.m., at any of the airports participating (see list above)
Visit 4 of the participating airports to 'draw' a card from the deck to make your Hand. Then be 'wheels down' at the Terminus airport by 2:30 p.m., where you then draw your final card.
WHERE DO YOU GET YOUR PLAYER CARDS?
At the first participating airport, you purchase many Poker Score Sheets as you can safely carry without upsetting your weight & balance!
We have some players fly Hands for their friends – they do not have to be with you to play. Whether you play 1 or 50 Hands, it's your choice – there is no max number of Poker Score Sheets you can play.
$10 Single Hand / $30 for 5 Hands / $50 for 10 Hands
At the 99's table there will be a volunteer/s, where you go to draw from the card deck a single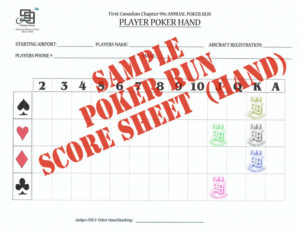 playing card per Poker Score Sheet,  the 99 volunteer will stamp your Poker Score Sheet.
After your first Hand is stamped, then proceed to pick another card for your next Poker Score Sheet.  Continue picking cards and having the Poker Score Sheet stamped, until you are finished all your Hands.
Continue to fly to your choice of participating airports and pull your next cards for your Poker Score Sheet Hands.
Pull cards for your Poker Score Sheet Hands at four of the listed airports and then to the terminus for the final 5th card.
The game is the same as 5 card poker (no draws, no wild cards)…best hand wins.
Join us for a fun day of flying
All proceeds go towards the First Canadian Chapter 99s awards, scholarship and educational programs.