POSTPONEMENT OF SUN JUNE 24TH, PANCAKE BRUNCH FLY-IN at EDENVALE AERODROME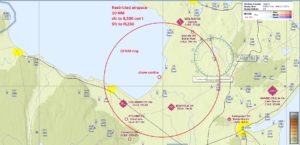 Due to an Airshow being held Sat June 23 & Sun June 24 at Wasaga Beach next weekend, a NOTAM just came out closing the airspace.
We will set up another date for the Pancake Brunch, or if someone in another area would like to host it at their airport, let me know and I'll get the big electric griddle to you. 
Deb can sent out an email notice with the new location and time.
Please pass along this map showing the closed area to other pilots. There was multiple infractions during the Borden air show, and expect even more during this weekend. It's a busy area for sightseeing flights and many pilots don't bother checking NOTAMs if they aren't planning on landing.